Sweeping, Scrubbing, Walk Behind, Narrow Access
To be OH&S compliant, businesses are required to provide a clean and safe environment for their employees and reduce the risk for visitors.
Dirty concrete floors, whether in warehouses, showrooms or multilevel car parks with leaves and litter, grime, dust, spills, grease, chemicals, oil, fork lift residue and slippery conditions, are unsightly, unsafe and can be a health hazard for staff, clients and the public.
We clean:
Warehouses/factory floors
Outdoor asphalt car parks
Indoor multilevel car parks
Large hard surfaces areas, indoor and outdoor
Road surfaces
Flood recovery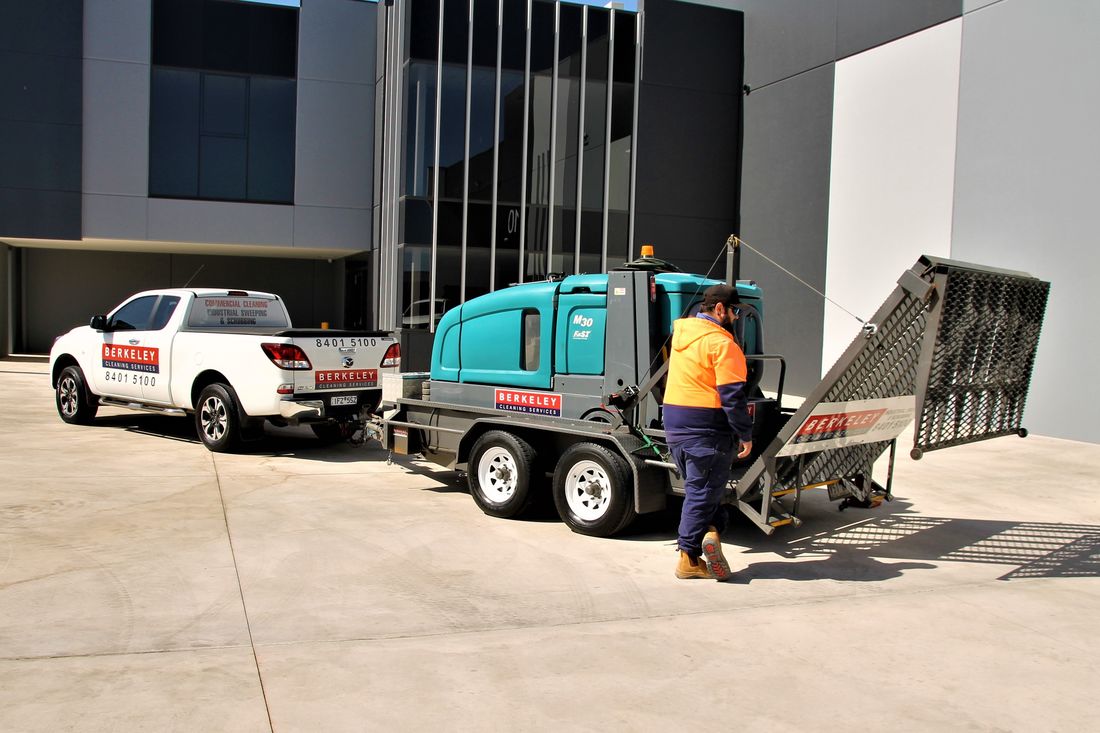 Berkeley Cleaning Services is Australia's most experienced concrete floor cleaner. We transform floors with our time-proven unique Berkeley system, state of the art ride-on technology and expert machine operators.
We guarantee that whatever and wherever your concrete floor is, we will make it the cleanest it can possibly be. You can be assured that floors will be OH&S compliant and a pleasure to walk on and work with. Importantly, we know that your brand or image is reflected in the image you present to staff and especially the public. Freshly scrubbed and shined concrete floors are an important reflection of that image.
Our Ride-on Sweepers and Scrubbers

State of the Art American-made machines are engineered for reliable, industrial strength ride-on sweeping and scrubbing.
The sweepers effectively pick up different types of debris from fine sand to litter and broken glass, with high tensile rotating brushes with virtually no airborne dust.
A unique high pressure Hydra cleaning system allows concrete to be cleaned without solvents and other chemicals.
The 3 stage dust control system traps minute dust particles as small as .5 microns, improving air flow filtration and dust control, meeting strict EPA standards.
A low 80 dBA noise rating is lower than the sound of a lawnmower.
Of course we also do a range of other commercial and industrial cleaning, all with the same professional attention to detail and outstanding service in the most affordable way.

If you would like us to contact you please complete this form and we will speak to you within 24 hours. Guaranteed.
Or if you would like to contact us straight away, our number is 03 8401 5100